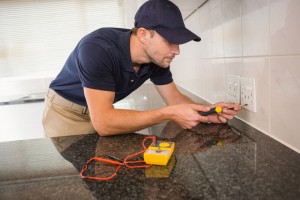 The licensed, professional Raleigh & Durham electricians at Bryant-Durham Services take their duties — and your complete satisfaction — very seriously. We understand that electricity is the single most important element necessary for creating safety and comfort within your home. Let Bryant-Durham Services make your home more comfortable, attractive, and valuable with electrical service upgrades including the installation and/or replacement of fixtures, outlets, and much more.
Our licensed electricians are fully-equipped and consistently trained to handle all of your electrical needs. Although we service thousands of new customers in the Raleigh-Durham area each year, we remain dedicated to making sure you receive the prompt and professional attention that you deserve. We provide expert solutions for all of your electrical challenges and genuinely care about saving you money in every way that we can.
Complete Electrical Repair, Maintenance & Installations
Call our very friendly customer service representatives today to schedule the installation and/or maintenance of an extensive array of outdoor lighting systems, lightning arrestors, and data/communication lines. In addition, count on the vast experience of our expert Raleigh-Durham electricians to:
Conduct home electrical system inspections & diagnostic
Plan, layout, install, and maintain a new wiring system
Diagnose and repair home electrical systems
Perform electrical wiring maintenance and repair
Install insulated cable
Install or repair electrical outlets, switches, fittings, and more
Install switchboards, motors, electrical signs, and storage heaters
Install new lighting and ceiling fans
Hardwire electrical equipment
Install or change out circuit breakers
And so much more!
Bryant-Durham Services is here for you in Durham and Raleigh.
Contact us or call (919) 383-9227 today!
And remember, we have been caring for residential, commercial, and industrial electrical systems in Durham and Raleigh since 1960.
Listen to what our customers are saying about us.
Commercial Generator Installation: It was a pleasure working with you, and your crews have been very professional and flexible to meet our needs.

R.W., Durham, NC