Want to upgrade your bathrooms to GFCI-certified electrical outlets? Looking to upgrade your entire home with new outlets to handle improved wiring? Bryant-Durham Services can handle all your electrical outlet installation needs!
Our certified electricians specialize in the repair and installation of many types of electrical outlets. Just tell us what you need and let us do the rest!
A Non-Working Electrical Outlet Is An Accident Waiting To Happen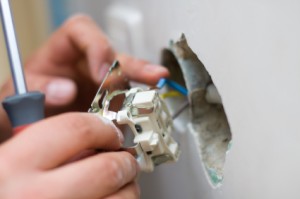 If you happen to have a sparking, arcing, or non-working electrical outlet in your home, you owe it to yourself to schedule an electrical outlet repair immediately. Although rare in modern electrical outlets, some older electrical outlet models are prone to improper functioning—and may pose a major fire hazard in the process.
Just call one of our customer service specialists and we'll be happy to send someone over to do a thorough test and evaluation of your electrical outlets. Once we check the electrical wiring and all the socket facings, we'll let you know your options so you can make an informed decision about the right course of action for you.
Whether it's installing an electrical outlet in one room or an entire structure, Bryant-Durham Services can do it all at a great value. Contact us today or call (919) 383-9227 for professional Raleigh-Durham, NC electrical outlet repair and installation.