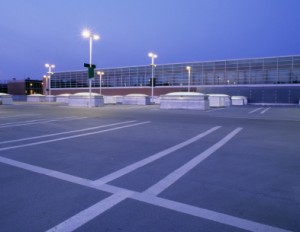 The parking lot lighting specialists from Bryant-Durham Services are highly trained, licensed electricians that thrive on providing optimal service standards. From small mom-and-pop grocery store parking lot lighting systems to complex systems at international airports, we pay attention to every detail of every job. We understand that you want your patrons to be safe and secure while visiting your commercial establishment. We have the manpower, modern equipment, resources, and expertise to make even the most perplexing projects run smoothly and efficiently through completion.
We understand the city government mandates concerning candle spacing in parking lots. Many times, owners are unaware that their current parking lot lighting system is not up to code. Let us create innovative solutions for your unique situation. New Green legislation is initiating various changes in parking lot lighting system codes. We keep you from violating any and all Dark Sky laws.
We choose our parking lot lighting system products meticulously. We only offer highly-efficient lighting system components and never sacrifice performance.
Bryant-Durham Services inspects, maintains, repairs, and installs complete parking lot lighting systems for:
Hospitals
Malls
Universities
Grocery stores
Schools
Parking garages
Airports
Pole Lighting Fixtures Installation & Repairs
Pole light fixtures require professional installation and maintenance, whether they're parking lot lights, flag pole lighting, LED pole lights, decorative pole lighting, or other types of outdoor pole lighting. To safely install, wire and replace your pole lighting fixtures, rely on the professional electricians at Bryant-Durham Services. Our team has over 60 years of experience installing and maintaining all types of pole lighting.
We provide our pole lighting technicians with the tools, training, and equipment necessary to perform even the most complicated tasks, including specialty pole lighting wiring, installation, and repairs. If you have pole lights or post lighting in need of maintenance, there's no better Raleigh-Durham electrical company to call than Bryant-Durham Services.
Let us handle your lantern, post-light, and pole lighting repairs, wiring, and installation. Our electricians will get the job done right the first time, with attention to detail and a dedication to safety and professionalism. Call (919) 383-9227 or contact us to schedule your free consultation session. We look forward to meeting your pole lighting needs!