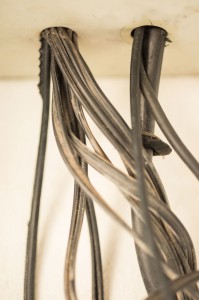 The courteous, licensed electricians at Bryant-Durham Services are standing by, ready to upgrade your current home electrical system. Are you aware that approximately 25% of all residences in the United States are in need of some type of electrical system upgrade? As we progress into an increasingly technological future, these upgrades will become more and more necessary. Our North Carolina-certified electricians have the knowledge, equipment and resources to quickly and efficiently take care of electrical service upgrade projects of all sizes and complexity levels.
Our electric service upgrades will bring your home up to code and give you the peace of mind that comes with knowing that your entire electrical system is functioning optimally. Your entire family will be safe, comfortable, and secure with a newly upgraded electrical system from Bryant-Durham Services.
An electrical service upgrade from Bryant-Durham Services may include any or all of the following:
Updating or upgrading your current voltage
Rewiring your home to comply with city codes
Complete electrical system change-outs
Electric panel box change-outs
Addition of 220-volt service
Installation of new, upgraded breakers
Wiring basements and garages
Our miscellaneous electrical service upgrades include:
Installing additional outlets to an existing room
Installing the lighting and electrical wiring in a new room addition
Enhancing the lighting configuration in bathrooms, kitchens, and other specific rooms in your home
Adding various innovative exterior electrical and/or lighting fixtures and devices
No matter what type of electrical service upgrades you are considering, the smart choice is to contact Bryant-Durham Services immediately. We can save you money. We will not be outdone in terms of job quality or professional integrity by any of our competitors, ever. We are dedicated to your total satisfaction. And that's exactly why we have been North Carolina's #1 choice for an electrical service upgrade provider for more than 50 years now.
Contact us or call (919) 383-9227today!